About This File
The Community Theme Creator for BigBox is still in development and should be treated as an Alpha build, however it has enough features in place that would allow you to start building your own Themes.
(Please see Pyramids by @Rincewind)
As I have no documentation at this point, please visit my YouTube Channel as I demonstrate some of the various features.
http://www.youtube.com/channel/UCALHDoR8oQifl6sbIrdrW6w
Installation
1. Download .zip file
2. Unblock (right click on the .zip file, select properties and click on Unblock)
3. Unzip where ever you like
4. Go to the unzipped folder and go to folder ".Install these fonts first to allow the demo theme to load correctly in the editor"
5. Install the 2 fonts (these are only needed for the included Theme)
6. Click on the "COMMUNITY Theme Creator for BigBox.exe"
7. Fill out the setup properties (userid / name and location of the BigBox.exe )
8. Enjoy!
FYI.  If you wish to design a Theme in either 4:3 or 16:9 or any other aspect ratio then simply change your windows desktop settings to the desired resolution and open the editor.
---
What's New in Version
1.0.7.9
See changelog
Released
Initial 1.0.7.9 had a bug, now fixed @21:06 CST
5/19/20 (1.0.7.9)
Fixed     Animation performance issue whilst selecting platforms/games when using published themes in BigBox (@Retro808, @JasonCarr)

Added     Remember the setting for "Render using database id" (@Mr.Retrolust)

Fixed     Custom Image Renderer - Platform categories/playlists were not rendering

Fixed     Automated Playlist video now display

Fixed     Animations for Playlists with 0 games, they were not triggered 

Added     GameDetailsNavigationInProgress animation trigger (@Faeran, @JasonCarr)

Added     Added spacing around the text in text list views (spacing scales based on users resolution)  @thimolor

Fixed     Notifications, not always moving in from the right

Added     3 additional Text List Styles

Fixed     Editor - Genre, Play Mode and Region. Text Format Property was not being displayed (@Faeran)

Fixed     Theme naming, "-" now allowed

Added     Skew properties to all wheels (@Faeran)

Fixed     Custom Image Viewer/Editor. No longer scaled, size is kept intact enabling templates to be shared.

Added     Aspect Ratio to Edit Theme Dialog (@Faeran)
Now includes 2 themes and custom images for you to play around with
1.0.7.9 Overview
Installation
** UNBLOCK the ZIP file before you UNZIP **  (right click on the downloaded zip and selection properties, then click on unblock)
If you have a Theme or Themes you are currently working on, simply drag the content of the Theme Preferences folder from your current build into this new build.
You can also drag the settings.txt from your current build into the COMMUNITY Theme Creator for BigBox folder so you dont have to go through the setup
Transferring your existing work to the new version. Simply open both the new and old versions, open the old "My Theme Projects" folder and move the content to the new "My Theme Projects" folder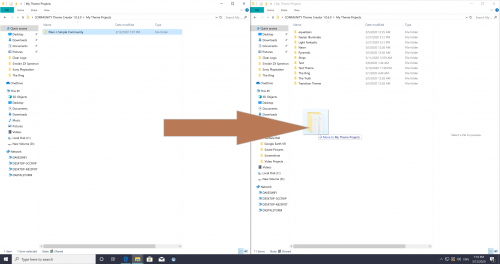 Custom Images
I have included 1 Platform and 1 Game Custom Image template for you to experiment with.
The video below will go into the creation, rendering and how to use them with your theme in greater detail.