About This File
This is a pack of 3 different clear logos for the all new  PC Engine Core Grafx MINI.
Create a playlist with the following games to create this console:
English:
Air Zonk
Alien Crush
Blazing Lazers
Bomberman '93
Bonk"s Revenge
Cadash
Chew-Man-Fu
Dungeon Explorer
J. J. & Jeff
Lords Of Thunder
Military Madness (Nectaris)
Moto Roader
Neutopia
Neutopia II
New Adventure Island
Ninja Spirit
Parasol Stars
Power Golf
Psychosis
R-Type
Soldier Blade
Space Harrier
Victory Run
Ys Book I&II
Titles Japanese:
Akumajō Dracula X Chi No Rondo (Castlevania: Rondo Of Blood)
Aldynes (SuperGrafx game)
Appears! Gateball
Bomberman '94
Bomberman Panic Bomber
Chō Aniki
Daimakaimura (Ghouls 'N' Ghosts – SuperGrafx game)
Dungeon Explorer
Fantasy Zone
Ginga Fukei Densetsu Sapphire
Gradius (Nemesis)
Gradius II – whom came philistim,) No Yabō (Nemesis II)
Jaseiken Necromancer
Nectaris (Military Madness)
Neutopia
Neutopia II
Ninja Ryūkenden (Ninja Gaiden)
PC-Pilot (Bonk)
Salamander
Snatcher
Star Parodier (Fantasy Star Soldier)
Super Darius
Super Momotarō Dentetsu II
Super Star Soldier
The Kung Fu (China Warrior)
Ys I&II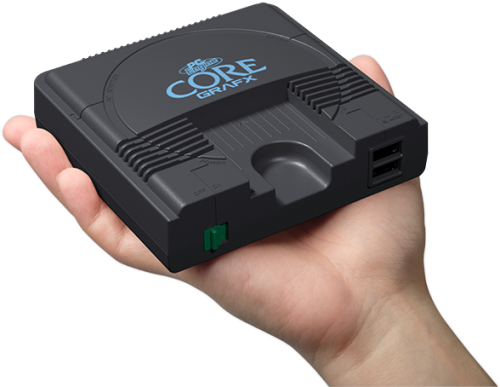 ---
What's New in Version
1.0.0
See changelog
Released
No changelog available for this version.