About This File
Night at the Arcade was built during a Theme Stream broadcast. If you are interested in creating themes, follow me on Twitch, or watch the videos later on YouTube.
A Catalog of past Theme Streams can be found on the forums here: https://forums.launchbox-app.com/topic/54760-retro-faerans-theme-stream-big-box-theme-creation/
Retro Bedroom
I create a brand new theme based around a childhood bedroom from the late 80s, early 90s. This is my take on the infamous bedroom theme. Like always, you can download both the Big Box theme files, along with the COMMUNITY Theme Creator files (which allows you to edit the theme to your liking using y2guru's COMMUNITY Theme Creator).
This theme includes everything to start you off reliving your childhood memories. Included are a batch of poster advertisements, and video advertisements for over 40 systems.
Come for the nostalgia, stay for the lava lamp.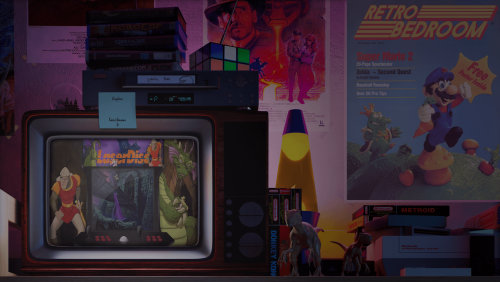 Watch this theme being built:
Instructions
Retro Bedroom - Theme.zip - BigBox theme. Place extracted folder in your LAUNCHBOX\Themes folder
Retro Bedroom - COMMUNITY Project files.zip - Creator Project files. Place extracted folder in your COMMUNITY\My Theme Projects folder
This theme only works on version 10.15 and above due to its reliance on some new bindings!
Credits
Ângelo Fernandes' Artwork - https://www.artstation.com/artwork/8wnkx
COMMUNITY Theme Creator by @y2guru. Find it here: https://forums.launchbox-app.com/files/file/2115-community-theme-creator-for-bigbox/
My Twitch Channel: https://www.twitch.tv/retrofaeran
My YouTube Channel: https://www.youtube.com/channel/UC2C5q0Muy-ehYpZUIIdJ94Q
---
Released
Added a second proof-of-concept platform view which changes the lighting based on the time of day (Platform View 2). slight changes happen every hour, following your system clock. 
This was accomplished within the COMMUNITY Theme Creator utilizing the visibility conditioning feature. Both the Theme and COMMUNITY Theme files have been updated with this view, so people can see how it was accomplished.
Here is what the entire 24 hours look like: