About This File
Version 1.2 has been released and it has a lot of changes. Most importantly, how marquees are now displayed. When downloading version 1.2, please take a look at the read-me which discusses what to do if incorrect art is shown in the Marquee area and how to remedy. Alternatively, the version 1.1 release is a solid choice if you are OK with the Clear Logo shown in the Marquee area AND the wheel at the same time.
New in Version 1.2.
Vertical Games and Vertical Platforms views. This is mostly for the guys that have vertical games ONLY on their systems. Vertical Mame and Pinball mostly. You can run horizontal systems in this view, but it might look a little weird..... There is now also separation between the Marquee and Clear Logos for ALL views (not just arcade but consoles too), so no more double Clear Logos on the screen, unless you want them. At the bottom of the games views I have added a subtle Release Date, Player Mode and User Rating that displays for a few seconds then disappears. See the release notes below for all changes in version 1.2.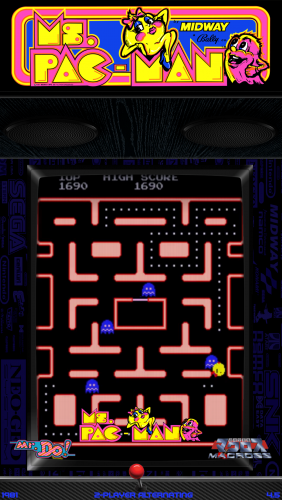 INTRODUCTION
This theme was built for people who have vertically oriented monitors in their cabinets - 1080x1920. It is based off of the Bezel and Lay File how-to videos I found on Youtube by the user Chad Wedlake (https://youtu.be/NUTnWWlcL3A) and are used with his permission. The files he used are derivative of the VCabinet artworks by Antolin Aguirre ( http://www.vcabinet.es ).
When I started this theme, I was well into creating vertical bezels for use in various platforms with RetroArch. I found it a challenge to set up each platform in a vertical fashion. I'm not sure when, but it was at least a couple months back when I discovered the Community Theme Creator and started playing around with it a bit. Wow, is it ever easy to use. Particularly if you know how layers work in programs like Photoshop or GIMP. Anyways, I started with just importing a bezel I had created and then added the video behind the bezel. Added the marquee view for the arcade games that have marquees and just used clear logos for the ones that didn't. Worked out pretty good I thought so I kept going. Then I thought, how about a view for the Pinball FX, Future Pinball and Visual Pinball tables I have? Well now I have it to a point that I feel like it should be shared.
For best results, I suggest setting a hotkey within BigBox to allow you to scroll through the various platform and games views. Many popular console platforms have their own views, but all platforms will display just fine with the default wheel or text views. The special views for Pinball are full screen table video views that do not look good with regular console or arcade videos. This theme was not designed with second monitor support in mind for pinball backglass videos or other marquees.
This theme was not tested with Platform Category Views, Genre Views, Playlist Views, or any other non-platform oriented views, but I assume they should work OK as long as your media is set up for those views.
I do intend at some point to also release the vertical bezel files I've created for the various platforms. This theme and the bezel files work great together to add a more seamless transition between game and frontend.
You shouldn't need anything special to get the theme to work as long as you have good media files. The theme mostly requires a good set of clear logos, box art, and game cart/cd media. You will also need a good set of videos as well as vertically oriented Pinball videos if you want to use the pinball views.
I'll release updates as I refine the theme. If you discover any weird bugs or have reasonable requests, please let me know.
CREDIT
I would like to thank Chad Wedlake for the use of his bezel template. @faeran for permission to use some of the xaml code from his excellent Vertigo Theme for the options views in the backend. @SonicFan53 for the clear platform images that the theme uses. And @y2guru for the excellent Community Theme Builder. I couldn't have done this without the Theme Builder. Incredible tool for theme building in BigBox! Thanks as always to @Jason Carr.
INSTALLATION
Download the zip file and unblock it by right clicking the file, go into properties and check the unblock check box and click OK. Once the file is unblocked, extract the folder into ==\Launchbox\Themes\
THEME VIEWS
In order to see the various games views for the different platforms, you'll need to change to each view. If you set a hotkey within Bigbox (Keyboard Mappings/Controller Mappings - Switch View) to change views, this makes it easy to change views without going into the settings each time.
Main Wheel
Main Wheel Device View
Main Wheel Vertical Text Wheel View
Main Wheel Description View
Default Games View
Alternate Games View (Arcade platform only - I got next game)
Vertical Text Wheel Games View
Atari 2600 Games View
Bally Astrocade Games View
GCE Vectrex Games View
Mattel Intellevision Games View
TurboGrafx 16 Games View
TurboGrafx CD Games View
NES Games View
Sega 32x Games View
Sega CD Games View
Sega Genesis Games View
Sega Master System Games View
Sega Saturn Games View
Sony Playstation Games View
Super Nintendo Games View
Fullscreen Pinball Table Games View
If you are interested in using any of the Bezels/Overlays within RetroArch, you can find them here.
---
What's New in Version
1.2.1
See changelog
Released
Version1.2.1
Small fix to include the marquee changes in a couple platform views that I missed adding in version 1.2.
Version 1.2
Added a dedicated Music Videos 'games' view. Platform needs to be named Music Videos.
Changed one of the platform views to use a vertical bezel.
Changed one of the games views to use a vertical bezel.
Both new vertical bezel views have a background.png file that can be swapped out at user's discretion. The file can be found in the ..\Vertical Aspirations\Media\Main overlay folder. The PNG should be 1080x1920 (vertical) fullscreen.
Changed how all Game View Marquees are shown. Instead of the theme showing the clear logo in the wheel AND at the top of the screen in the marquee area, Bigbox will now look in the Launchbox\Images\(platform)\Arcade - Marquee folder for marquees for any game. If no marquee is found, the game's clear logo will be used. See the readme file in the zip about how to fix if box art or other files being shown in the marquee area. Thanks @SilverChin
Changed how Platform View Marquees are shown. Instead of the theme showing the clear logo in the wheel AND at the top of the screen in the marquee area, Bigbox will now look in the Launchbox\Images\Platforms\Banner folder for image to use as the Marquee. If no image is found, the platform's clear logo will be used. See the readme file in the zip about how to fix if box art or other files are being shown in the marquee area. Thanks @SilverChin
Added a subtle total games and platform name text to each platform view screen at bottom of screen. Text disappears after a few seconds.
Added a subtle Release Date (year), Play Mode (single entry), and User/Community Rating text on the bottom of each games view screen. If no user rating available, it will default to community rating. If neither rating are available, nothing is shown. Text disappears after a few seconds. Thanks @pahleto and @y2guru
Version 1.1
Added Atari 5200, Atari 7800, and ColecoVision custom views
Added invisible overlay for user customization to add custom game-pad controls or other image. This is a full-screen clear image that sits at the top layer of each view. (edit the blank overlay.png in the ..\Vertical Aspirations\Media\Main overlay folder). Thanks @bionictoothpick
Fixed the speaker orientation on each view. Thanks @yourmovecr33p