About This File
*These are available through Emumovies Sync and have also been uploaded to the LaunchBox Database. 
This is a collection of 2868 3D PC Game boxes I have made. A games list is attached. Many of the triple A games and collections are covered to the best of my knowledge (Call of Duty, Tom Clancy's, Battlefield collections etc...) There are also a lot of games that may be from country's like Brazil or may not be well known or children's games but I made boxes for them anyway because who knows when someone somewhere might actually want that particular game so why not cover as much ground as possible. I used the highest resolution available and paid for the privilege however sometimes even at the highest resolution the covers may not be scanned in properly and that was all that was available.
If you find my work of use could you please consider donating to my Patreon found here: https://www.patreon.com/RobinLevingstone
PC 3D BOX LIST GAMES COVERED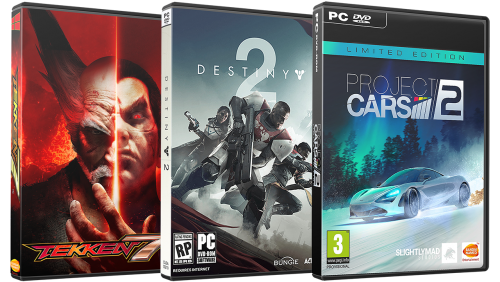 if a game you are looking for is not listed here try my Steam Covers that can be downloaded here:
Also I include a tutorial showing how to make these boxes
---
What's New in Version
1.0.6
See changelog
Released
466 3D PC Game Covers. Where possible I have used the highest resolution covers to make these boxes, unfortunately it was not always possible to get a very good resolution for some titles. Game covers for games released this year are very hard to find as they are released more and more on steam or other online services.
List Of Games:
007 Blood Stone
007 Quantum Of Solace
Age of Conan
Age Of Pirates
Aion
Alan Wake
Alan Wake's American Nightmare
Alice Madness Returns
Alien vs Predator
Alines Colonial Marines
Alone In The Dark
Alpha Prime
Angry Birds Rio
Angry Birds Seasons
Angry Birds Space
Angry Birds
Apache Air Assault
ArcaniA
Arma 2 DayZ Mod
Arma 2 Operation Arrowhead
Arma 2
Assassins Creed Brotherhood
Assassin's Creed II
Assassin's Creed III
Assassins Creed Revelations
Assassins Creed Syndicate
Assassins Creed
Back to the Future The Game
Batman Arkham Asylum GOTY Edition
Batman Arkham City
Batman Arkham Knight
Batman Arkham Origins Blackgate Deluxe Edition
Batman Arkham Origins
Battlefield 1
Battlefield 2 - Euro Force
battlefield 2
Battlefield 3 Limited Edition
Battlefield 3
Battlefield 4
Battlefield 1942
Battlefield 2142
Battlefield Bad Company 2
Battlefield Vietnam
Battlestations Pacific
Bayonetta
Best Seller Series - Aliens Versus Predator 2
Beyond Good & Evil
Binary Domain
Bionic Commando
BioShock 2 Remastered
BioShock 2
BioShock Infinite
BioShock Remastered
BioShock
Black And White 2
Blacksite Front
BlazBlue Calamity Trigger
BlazBlue Centralfiction
BlazBlue Chrono Phantasma Extend
Blazblue Continuum Shift Extend
Borderlands 2
Borderlands
Brink
Brütal Legend
Bulletstorm
Call Of Duty 4 Modern Warfare
Call Of Duty Advanced Warfare
Call Of Duty Black Ops 3
Call of Duty Black Ops
Call Of Duty Ghosts
Call Of Duty Infinite Warfare
Call Of Duty Modern Warfare 2
Call Of Duty Modern Warfare 3
Call Of Duty United Offensive
Call Of Duty World at War
Call Of Duty
Call Of Juarez
Clive Barkers Jericho
Code Of Honor 3 Desperate Measures
Command & Conquer (Special Gold Edition)
Command & Conquer 2 Tiberian Sun Firestorm
Command & Conquer 2 Tiberian Sun
Command & Conquer 3 Kane's Wrath
Command & Conquer 3 Tiberium Wars - Kane's Wrath
Command & Conquer 3 Tiberium Wars
Command & Conquer 4 Tiberian Twilight
Command & Conquer Generals – Zero Hour
Command & Conquer Generals
Command & Conquer Red Alert 1 The Aftermath
Command & Conquer Red Alert 1
Command & Conquer Red Alert 2 - Yuri's Revenge
Command & Conquer Red Alert 2
Command & Conquer Red Alert 3 - Uprising
Command & Conquer Red Alert 3
Command & Conquer Renegade
Commandos Strike Force
Company of Heroes Legacy Edition
Company of Heroes Opposing Fronts
Company of Heroes Tales of Valor
Company of Heroes
Condemned Criminal Origins
Crysis 2 Maximum Edition
Crysis 3
Crysis Warhead
Crysis
Dark Sector
Dark Void
Darksiders II
Darksiders Warmastered Edition
Darksiders
Dead Island
Dead Rising 2 Off The Record
Dead Rising
Dead Space 2
Dead Space 3
Dead Space
Deadpool
Death Track Resurrection
Delta Force
Deus Ex Invisable War
Deus Ex Mankind Divided
Deus-Ex Human Revolution
Devil May Cry 3 Dantes Awakening Special Edition
Diablo 3
Diablo II
Dirt 2
Dirt 3 Complete Edition
Dirt 4
Dirt Showdown
Dirt
Dishonored
Divinity II - Ego Dragonis
DmC Devil May Cry
Doom 3 BFG Edition
Doom 3 Resurrection Of Evil
DOOM 4
DOOM Collector's Edition
Dragon Age II
Dragon Age Origins
DreadOut Keepers of The Dark
DreadOut
Driv3r
Duke Nukem Forever
Dune 2000
Dungeon Siege III Limited Edition
Dyling Light - enhanced
Emperor Battle for Dune
Empire Earth III
Enemy Front Limited Edition
F.E.A.R. 2 Project Origin
F.E.A.R. 3
F.E.A.R. Extraction Point
F.E.A.R. Perseus Mandate
F.E.A.R
F1 2010
F1 2011
F1 2012
F1 2013
F1 2014
F1 2015
F1 2016
F1 2017 Special Edition
Fallout 3
Fallout 4
Fallout New Vegas
Far Cry 2
Far Cry Primal
Far Cry
Farcry 3
Flatout - Ultimate Carnage
Flatout 2
Football Manager 2008
Football Manager 2009
Football Manager 2010
Football Manager 2011
Football Manager 2012
Football Manager 2013
Football Manager 2014
Football Manager 2015
Football Manager 2016
Football Manager 2017
Formula 1 2010
Freedom Fighters
Front Mission Evolved
FrontLines Fuel Of War
Gas Guzzlers Extreme
Ghostbusters The Video Game
Gothic II
Grand Theft Auto III
Grand Theft Auto IV
Grand Theft Auto V
Grand Theft Auto Vice City
Grand Tour Racing 4000
Grandia II
GRID 2
GT Legends
GTR 2
Guilty Gear Isuka
Half-Life 2
Half-life Opposing Force
Halo 2
Harry Potter and the Chamber of Secrets
Harry Potter and The Goblet of Fire
Harry Potter and the Half-Blood Prince
Harry Potter and The Order of the Phoenix
Harry Potter and the Philosophers Stone
Harry Potter and the Prisoner of Azkaban
Hellblade_ Senua_s Sacrifice-01
Hellblade_ Senua's Sacrifice-01
Hitman 2 Silent Assassin
Hitman Absolution
Hitman Blood Money
Hitman Contracts
Homefront
Injustice Gods Among Us - Ultimate Edition
Insurgency
James Camerons Avatar The Game
Juiced
Just Cause 2
Just Cause
Kane & Lynch 2 Dog Days
Kane & Lynch Dead Men
Kholat
Killing Floor
Left 4 Dead 2
Left 4 Dead
Lego Batman 2
Lego Batman
Lego Harry Potter Years 5-7
Lego Harry Potter Years-1-4
Lego Indiana Jones 2
Lego Indiana Jones
Lego Lord of the Rings
Lego Marvel Super Heroes
Lego Pirates Of The Caribbean
Lego Star Wars III The Clone Wars
Lego Star Wars The Complete Saga
Lego The Hobbit
Life Is Strange Before the Storm
Life is Strange
Lost Planet 3
Lost Planet Extreme Condition
Mad Max
Mafia II
Mafia III
Mafia
Manhunt
Marvel Vs Capcom Infinite
Mass Effect 2
Mass Effect 3
Mass Effect Andromeda
Mass Effect
Max Payne 2 The Fall Of Max Payne
Max Payne 3
Medal of Honor Airborne
Medal of Honor Allied Assault
Medal of Honor Pacific Assault
Medal Of Honor War fighter
Medal of Honor
Mercenaries 2
Metro 2033
Metro Last Light
Microsoft Flight Simulator 2004
Microsoft Flight Simulator X
Might & Magic Heroes VI Limited Edition
Mini Ninjas
Mirror_s Edge Catalyst
Mirror's Edge
Mortal Kombat Arcade Kollection
Mortal Kombat Komplete Edition
Mortal Kombat Trilogy X
Mortal Kombat Trilogy
Mortal Kombat X
Murdered Soul Suspect
Naild
Need For Speed - Carbon
Need For Speed - Hot Pursuit
Need For Speed - Most Wanted
Need For Speed - Pro Street
Need For Speed - Rivals
Need For Speed - Shift 2 Unleashed
Need For Speed - Shift
Need For Speed - The Run
Need For Speed - Undercover
Need For Speed - Underground 2
Need For Speed - Underground
Need for speed
Neverwinter Nights 2
Neverwinter Nights Shadows Of Undrentide
Neverwinter Nights
NiGHTS into Dreams.
Nuclear Dawn
Oblivion
Oni
Operation Flashpoint Cold War Crisis
Operation Flashpoint Dragon Rising
Operation Flashpoint Red River
Orange Box Front
Outlast 2
Outlast whistleblower
Outlast
Painkiller Hell and Damnation
Pier Solar and the Great Architects
Plants vs Zombies Garden Warfare
Portal 2
Prey 2017
Prey
Prince Of Persia The Forgotten Sands
Prince Of Persia The Sands Of Time
Prince Of Persia The Two Thrones
Prince Of Persia Warrior Within
Prince Of Persia
Pro Cycling Manager
Project Cars
Project I.G.I
prototype 2
Quake II
Quake
Race Driver Grid
RAGE
Rayman Origins
Red Faction Armageddon
Red Faction Guerrilla
Remember Me
Renegade Ops
Resident Evil 0 HD Remaster
Resident Evil 4
Resident Evil 5
Resident Evil 6
Resident Evil 7
Resident Evil Revelations 2
Resident Evil Revelations
Resident Evil
Rise of The Tomb Raider
Risen 2 Dark Waters
S.T.A.L.K.E.R. Call Of Pripyat
S.T.A.L.K.E.R. Clear Sky
S.T.A.L.K.E.R. Shadow Of Chernoble
Saints Row 2
Saints Row The Third
Sanctum 2
Scribblenauts Unlimited
Second Sight
SEGA Mega Drive & Genesis Classics
Sega Rally Revo
Shadow Warrior
Shadowgrounds Survivor
Shellshock 2 - Blood Trails
Shogun 2 Total War
Silent Hill 2
Silent Hill 3
Silent Hill 4 The Room
Silent Hill Homecoming
Silent Hunter 5 Battle of the Atlantic
Singularity
SkullGirls
Skyrim
Sleeping Dogs
Sniper Elite 3
Sniper Elite 4
Sniper Elite V2
Sniper Ghost Warrior 2
Soldier Of Fortune Gold
Sonic Adventure 2
Sonic Generations
Sonic Mania
Sonic PC Collection
South Park - The Stick Of Truth
Spec Ops The Line
SpellForce 2 Faith in Destiny
Spiderman Web Of Shadows
Spore
Star Craft II
Star Trek Legacy
Star Trek Online
Star Wars Battlefront
Star Wars Knights of the old Republic II - The Sith Lords
Star Wars Knights Of The Old Republic
Star Wars The Force Unleashed II
Star Wars The Force Unleashed
Stolen
Street Fighter V
Street Fighter X Tekken
Strider
Styx - Master Of Shadows
Styx Shards Of Darkness
Supreme Commander 2
Supreme Commander Forged Alliance
Supreme Commander
System Shock 2
Test Drive Unlimited
Tex Murphy Tesla Effect
The Amazing Spider-Man
The Bureau XCOM Declassified
The Chronicals Of Riddick - Assault On Dark Athena
The Chronicals Of Riddick - Escape From Butcher Bay
The Darkness II
The Evil Within 2
The Evil Within
The Godfather II
The Godfather
The Last Remnant
The Lord of the Rings War in the North
The Sabatour
The Settlers 7
The Sims - Medieval Pirates and Nobles
The Sims 3 - Ambitions
The Sims 3 - Create A Sim
The Sims 3 - Generations Case
The Sims 3 - Late Night
The Sims 3 - Master Suite Stuff
The Sims 3 - Showtime
The Sims 3 - Supernatural
The Sims 3
The Sims 4 - Get To Work
The Walking Dead
The Witcher 2 Assassins Of Kings Enhanced Edition
Thief 3
Thief
Timeshift
Titan Quest
Titanfall
Tom Clancy's Endwar
Tom Clancy's Ghost Recon Future Soldier
Tom Clancy's Ghost Recon
Tom Clancy's Rainbow Six 3 Raven Shield
Tom Clancys Rainbow Six Siege
Tom Clancy's Rainbow Six Vegas 2
Tom Clancy's Rainbow Six Vegas
Tom Clancy's Rainbow Six
Tom Clancy's Splinter Cell Blacklist
Tom Clancy's Splinter Cell Chaos Theory
Tom Clancy's Splinter Cell Conviction
Tom Clancy's Splinter Cell Double Agent
Tom Clancy's Splinter Cell
Tomb Raider - The Angel of Darkness
Tomb Raider - Underworld
Tomb Raider
Total War Warhammer
Trackmania Sunrise
Turok
Two Worlds II
Ultra Street Fighter IV
Umbrella Corps
Undying
Unreal 2 The Awakening
Unreal Tournament
Vanguard Princess
Vanquish
Viking Battle for Asgard
Viscera Cleanup Detail Shadow Warrior
Warhammer 40,000 Dawn of War Game of the Year Edition
Warhammer 40000 Dawn of War - Winter Assault
Watchdogs 2
Watchdogs
Wheelman
Wipeout XL
Wold Of Warcraft - Wrath Of The Lich King
Wolfenstein 2
Wolfenstein II The New Colossus
Wolfenstein The New Order
World of Warcraft - Cataclysm
worms 3D
X-Men Origins Wolverine
Zeno Clash II
Zoo Tycoon Complete Collection