About This File
View MAME High scores in Game Details - A plugin for LaunchBox/BigBox
Use this plugin to see a games top 3 high scores in the Game Details.
Features
Shows high scores for most games in your Arcade platform in the Game Details.
After playing a MAME Arcade game that saves its' high scores [and is supported by the included hi2txt program], this adds a Custom Field called "Hi-Scores" to the game.  It will store 1st, 2nd and 3rd place and appear in the Game Details when the game is selected.
What's needed
(3) files that are included in the downloaded zip file (the plugin)
One file that is included in the Version 3.0 downloaded zip file
MAME configured to save high scores
Saved high score files (These are automatically generated by MAME [once configured to save them] in the "hi" and/or "nvram" subfolders of your MAME emulator)
What it won't do
Show high scores for games using emulators other than MAME.
MAME does not save high scores for all arcade machines, so not all games are supported by this plugin.
Contributors
@jayjay and @JoeViking245
A HUGE Special Thanks goes to GreatStone's utility "hi2txt".  This utility converts MAME's high score files into a readable format which ultimately makes this plugin possible!!
http://greatstone.free.fr/hi2txt/index.html


Installation and setup instructions:
Step 1: Installing the Plugin
Step 2: Making sure MAME is set up to save high scores
Installing the Plugin:
Download the plugin, LB-BB_Hi_Scores_v1.0.zip, from the LaunchBox download section
After you've downloaded the zip file, be sure to unblock it in Windows by right clicking it, selecting Properties, and clicking Unblock

Open the zip file and extract/copy the "Hi_Scores" folder into ..\LaunchBox\Plugins
           e.g  D:\LaunchBox\Plugins\
If you have previously installed "MAME Hi-Score Display - A plugin for BigBox", you will only to copy the "HiScoreCustomField.dll" file into that same folder.  Otherwise all 3 files are required.  (Only one file is required with version 3.0) The 2 plugins will not conflict with each other.
Setting up MAME to save high scores:
Using a recent official MAME release –
By default, plugins are enabled in MAME.

 

You can verify this by looking at the "mame.ini" file located in the root MAME install folder.

Open "mame.ini" and scroll down to (or p

ress Control + F and search for) "Scripting Options".

 

 

"plugins" should be set to 1.

 

If it's 0 (zero), change it to 1.

Next, open "plugin.ini" also located in MAME's root directory and change "hiscore" to 1.

If you have an older release of MAME, you may need to do the following steps.
Go to this website: http://www.mameworld.info/highscore/download.htm and download a copy of the file hiscore.dat that corresponds to your version of MAME.
The file (hiscoredat.zip) will need to be unzipped. Place the file hiscore.dat in your MAME/Plugins folder
Open up your MAME.ini file in a text editor. In newer versions, this file will be in the same directory as the MAME.exe
Press control + F and search for "Scripting Options"
Next to the word Plugins, type "1" no quotes
Next to the word Plugin, type "hiscore" no quotes
It will look like this: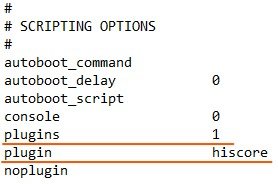 How to use:
Start LaunchBox or BigBox
Go into the "Arcade" Platform
Select a game, run it, then close it
Now select a different game, then go back (poor man's version to refresh the Game Details)
If the game has saved high scores, they will now appear in that game's Detail pane
Depending on the BigBox theme you use, the amount of data shown in the Game Details may be limited.  So you might need to go into Options, Game Details and deselect some of the Details.
Be sure that "Custom Fields" is checked.
---