About This File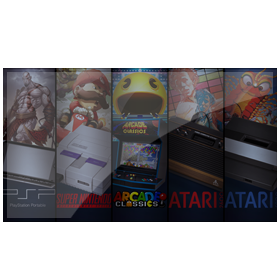 Welcome to Faeran's BannerBox. A horizontal banner based theme, inspired by 80s retro. This theme requires that you be running LaunchBox 11.10 or later due to its reliance on the new wheel.
The following info is now considered legacy:
This base theme has banners for the following systems (Some System packs will be released separately):
Arcade
Atari 2600
Atari 5200
Atari 7800
Atari Jaguar
Atari Jaguar CD
Atari Lynx
Atari XEGS
Bally Astrocade
Casio PV-1000
ColecoVision
Entex Adventure Vision
Fairchild Channel F
GCE Vectrex
Mattel Intellivision
NEC PC Engine
NEC TurboGrafx-16
*Nintendo 3DS
Nintendo 64
Nintendo 64DD
*Nintendo DS
Nintendo Entertainment System
Nintendo Game Boy
Nintendo Game Boy Advance
Nintendo Game Boy Color
Nintendo GameCube
Nintendo Pokemon Mini
Nintendo Virtual Boy
*Nintendo Wii
Nintendo Wii U
Sega 32X
Sega CD
Sega Dreamcast
Sega Game Gear
Sega Genesis
Sega Mark III
Sega Master System
Sega Saturn
Sega SG-1000
SNK Neo Geo AES
SNK Neo Geo CD
SNK Neo Geo Pocket
SNK Neo Geo Pocket Color
Sony Playstation
*Sony Playstation 2
*Sony PSP
Super Nintendo Entertainment System
VTech CreatiVision
*Only a small amount of banners were created for these systems
Download extra banner packs and install them into:
LAUNCHBOX\Themes\BannerBox\Images\Games\Custom Images 1
Explaination of some files:
BannerBox.zip - The same theme that can be downloaded from within Big Box's theme manager
BannerBox - Base Theme - No Game Banners.zip - Same theme as above, but without any game banners. Use this if you want to create your own banners
BannerBox - Template - Create Your Own Banners.zip - Use this file to load into the COMMUNITY Theme Creator to create your own banner images
Learn how to create your own BannerBox Banner Images: https://www.youtube.com/watch?v=UtK2S7Owo8Y
Download banners created by the community in this thread:
BannerBox Community Banner Thread - Platform Media - LaunchBox Community Forums (launchbox-app.com)

Looking to create your own theme? Learn how by:
Following me on Twitch: https://www.twitch.tv/retrofaeran
Subscribing to me on Youtube: https://www.youtube.com/channel/UC2C5q0Muy-ehYpZUIIdJ94Q
CREDITS
----------------------------
Theme was created by @faeran
Theme was created using the COMMUNITY Theme Creator by @y2guru
Theme uses some amazing artwork by Rachid Loft. Find his work at: https://rachidlotf.com/
Edited by faeran
---
Released
BannerBox 2.0 has been released with the following changes:
Feature: All game views can now utilize your regular BoxArt and Clear Logo images. Custom Banners (Banner Packs) are no longer required!

Note: This feature only works in LaunchBox 11.10 or higher.
Note: You now need to load 4 images per game, as opposed to 1. Please keep this in mind.

Feature: Custom Banners still work in the theme, but this is considered legacy. It is known that custom images appear more blurry than they did before.

Note: No custom banners are included with this version, however they still work if placed in the same spot as before.

Feature: The theme now utilizes parenting functionality, removing some user sources and reducing the amount of animations needed to pull off the same effects.
Fix: Freezing caused by User Defined Videos have now been solved.
Fix: Controller and Default Media file names have been adjusted.
Additions: More platform banners have been included with the theme.