About This File
# WHAT IS IT ?
COLORFUL is a complete and coherent high quality graphic set, around a unique design. Made with love in France. I hope you like it ! ?
Here are planned development axes:

# HERE IS COLORFUL PLATFORM VIDEO SET:
On this page we are talking about COLORFUL Platform Video Set:
A complete new series of platform video for our frontend!
Colorful is a modern and elegant way to present each platform, with its hardware of the time. With maximum accuracy and future proof. (4K video) 

# I NEED YOUR HELP : PATREON ?
I will make a first batch of 65 systems, according to my personal use.
But we are far from covering any game system!
If the community doesnt take over the creation, 2 choices:   the project stops  /or/  I finish it.
Problem, creating these videos takes a loooooot of time. And I have to deal with a full-time CGI artist job and 2 young kids.
So I opened a Patreon page that could allow me to dedicate days on my work time to continue creating video.
I'm not trying to get rich, but like everyone else, I cant spend 1 day/week working for free! I hope you understand.
If the project interests you: Here is my Patreon page.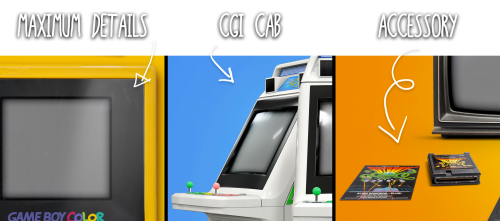 # IN DETAIL ?
Obviously, Colorful is a direct legacy of my previous video set "Nostalgia". But improved on all aspects:
Centred design with colorful background, according to the platform. (theme/logo/box/design)
4K video (3840x2160px) @ 30fps (MP4 H264 AAC)
HD video (1920x1080px) @ 30fps (MP4 H264 AAC)
Only available in 16:9, but design compatible with 4:3 crop.
All designs are completly rebuilt.
More care of details.
More TV variety and better accuracy.
Arcade cabinet fully made in CGI, by myself. More variety and better accuracy.
Added characteristic effect on CRT TV.
Added platform boot screen. (if existing)
All sources will be available soon. (Community effort!)
# ABOUT CODEC FORMAT ?
Initially, I was thinking of working in H265, more modern for 4K. But after talking with Jason, this is problematic on some old configuration and with Windows Media Player, which doesn't support it.
So, I will leave you the choice!
4K | 3840x2160 | mp4 h264 AAC 
4K | 3840x2160 | mp4 h265 AAC   (only on EmuMovies FTP)
HD | 1920x1080 | mp4 h264 AAC
 - On this download page = Only 4K - h264
 - On Download theme videos tools = both, 4K + HD version
 - On EmuMovies FTP = The 3 versions!
# A PREVIEW OF ALL THIS ?

# A COMMUNITY EFFORT ? 
Yes, all sources are available on a dedicated page.  Everyone can create their own videos that will be included here, in this set. 
Some rules to follow:
  - Advertise on this thread which platform you want to achieve.
  - Post the work in progress on the same thread, for exchange/feedback.
  - Post the final video + sources on the same thread or by MP. To avoid scattering and centralize everything here.
  - I will moderate the general quality of your proposals for a coherent result.
So, I acting like a modertor on this thread.
Do you want to participate? Cool !! I post soon a guideline tutorial !
🏆 Community Wall of Fame 🏆
# OK, HOW TO DOWNLOAD ?
3 ways :
One by one - right here, with the download button at the top right.
Automatically - in LaunchBox > Tools > Download theme videos tools > Select "Colorful 4K" or "Colorful HD"
By batch - On the Emumovies   

FTP ://Official/Platform Videos/COLORFUL Platform Video Set by VIKING V2

# SPECIAL THANKS : 
@Jason Carr for his hard work on LaunchBox/BigBox!
@faeran for his huge work on the theme!
To all Patreon guys! A GIANT THANKS to all of you!!!

?

The whote community for yout support!
# SOURCES - COPYRIGHT :
Each brand of hardware and software here represented as a tribute.
Emumovies for (most) gameplay videos
The Vanamo Online Game Museum for (most) photos.
If special credit, see .TXT file in the corresponding source archive.
Edited by viking
---
What's New in Version
1.1.0
See changelog
Released
UPDATE : +7 PLATFORM VIDEO
NEC TurboGrafx-CD
Nintendo 3DS
Nintendo 64 DD
Nintendo 64 
Nintendo DS
Nintendo Entertainment System
Nintendo Game Boy Advance