About This File
Instructions
1. Download the .ZIP and UNBLOCK!
2. Unzip to a new location, DO NOT overwrite the existing forum build
3. Copy the content from the "My Theme Projects" folder from your existing Theme Creator folder and Paste into the new "My Theme Projects"
Launchbox/BigBox Compatibility
BigBox must be version 13.1 - Beta 2 or higher to support Themes Published using COMMUNITY Theme Creator 2.5
Manuals / How to
Refer to my YouTube channel or visit Faeran's Theme Creator Workshop videos to better understand the new features.
Development Live Streams - YouTube
Please Note:  Version 2.5.5 Is the final version of the software I plan to distribute.
Future Version includes new Shader Effects
Edited by y2guru
Compatibility
---
What's New in Version
1.0.6.0
See changelog
Released
3/12/20 (1.0.6.0)
Added New Feature - Create your own Custom Images!
Changed Fallback Filename for Image and Animated gif to allow lookup using platform name
Fixed Platform Fan art was not displayed in the Creator as it was not looking at the launchbox\images folder (Rincewind)
Fixed Playmode and Genre Image UI Elements, 4th image was not showing (cenfundog)
Fixed Creator to show metadata images, videos etc.. when a game title includes "  (Faeran)
** UNBLOCK the ZIP file before you UNZIP **  (right click on the downloaded zip and selection properties, then click on unblock)
If you have a Theme or Themes you are currently working on, simply drag the content of the Theme Preferences folder from your current build into this new build.
You can also drag the settings.txt from your current build into the COMMUNITY Theme Creator for BigBox folder so you dont have to go through the setup
Transferring your existing work to the new version. Simply open both the new and old versions, open the old "My Theme Projects" folder and move the content to the new "My Theme Projects" folder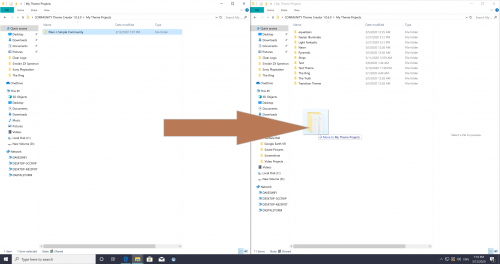 Custom Images
I have included 1 Platform and 1 Game Custom Image template for you to experiment with.
The video below will go into the creation, rendering and how to use them with your theme in greater detail.